The third Clinton Global Initiative University meeting was held on the University of Miami's Coral Gables campus April 16-18.
Coral Gables (April 19, 2010) — With paintbrush in hand, Damien Berry nudged his way up to the line of long tables and positioned his muscular frame between two of his University of Miami football teammates, looking down at the sheet of white tile onto which he would soon create images of hope for the homeless.

Along with quarterback Jacory Harris, Berry, a running back on the Hurricanes football squad, painted a large tree, "symbolizing growth," he explained.

At the far end of the table, Morgan Stroman, a star player on the UM women's basketball team, painted a picture of helping hands as a symbol that "everyone can do something to make their community a better place," she said.

It was a rainy Sunday morning, and the student-athletes, about 75 of them from different UM sports, had come to Homestead in southern Miami-Dade County to give a facelift to the grounds and facilities of the Homeless Trust Project, which serves as the residence to some 300 people—single men and women, and families—who are temporarily down on their luck.

Yesterday's volunteer service project was the culmination of President Bill Clinton's third Clinton Global Initiative University, which began on Friday. The three-day conference, held at UM, drew more than 1,300 students from 83 countries and all 50 states, along with university presidents, administrators, and national youth leaders, to discuss and devise strategies to make the world a better place. Among the issues addressed: education, the environment and climate change, peace and human rights, poverty, and global health.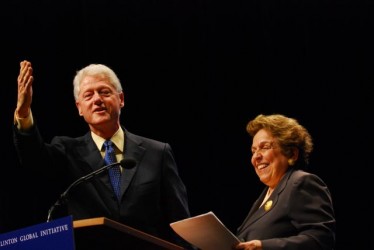 "You really do have the power to change the world, and you don't have to be wealthy to do it. The most important thing to have is an idea and a strategy to implement it," Clinton told thousands of students last Friday at the opening plenary, before calling to the stage a group of students to recognize them for starting service projects, dubbed "Commitments to Action," which are at the heart of his CGI U initiative.
In all, UM students accounted for about 250 of the more than 1,000 new commitments at this year's meeting, ranging from an initiative to establish a network of community youth centers in the Haitian slum of Cite Soleil to a program to help rescue victims of domestic minor sex trafficking in Miami.
"That's what makes CGI U work: It frames global issues on a human, doable scale," UM President Donna E. Shalala said. "It turns mild-mannered college students into super social entrepreneurs."
But on Sunday in Homestead, it was a single commitment to which hundreds of CGI U participants contributed: the refurbishment of the Homeless Trust Project facility.
After listening to words of encouragement from Clinton, incoming UM student government president Christina Farmer, and former Miami Heat All-Star Alonzo Mourning, who told the young crowd "education is the foundation of success," the students broke up into groups, dedicating themselves to tasks to improve the look and feel of the compound.
As UM football players Berry, Harris, and others painted inspirational messages on tiling that eventually will be installed in the Trust's new 145 housing units opening a year from now, soccer player Brittney Steinbruch and her teammates spread mulch at the base of trees. And inside the Family Resource Center, student-athletes helped set up a library that contains donated books, computers, and workstations where children can do their homework and receive free tutoring from Miami-Dade County schoolteachers who volunteer at the project.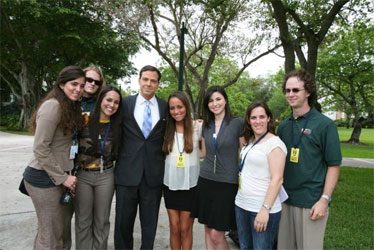 "We're excited to have the students here and honored to have been selected as a service project after only the third CGI U," said the center's coordinator, Ralph Person, who has been with the Homeless Trust Project since it began more than 11 years ago.
Fifty-eight-year-old Michael Love, a resident at the facility, said he was "ecstatic" to have the student-athletes help out, and wished that they could stay for good. "What they're doing is wonderful," said Love, who wore a Miami Hurricanes sweatshirt and cap to the event.
A recovering heroin addict who at one point was spending $100 a day on his addiction, Love said no matter how bad his life seems, his problems pale in comparison to what the people of Haiti are going through.
Fittingly, it was the future of the earthquake-ravaged country that dominated day two of the CGI U meeting, as participants attending plenary and working sessions on topics such as human trafficking, the worldwide water crisis, global health, and education often brought Haiti into the realm of their discussions.
During a private luncheon on the UM campus, Clinton, President Shalala, and several university presidents from Haiti discussed what immediate steps need to be taken before recovery and reconstruction efforts can move forward.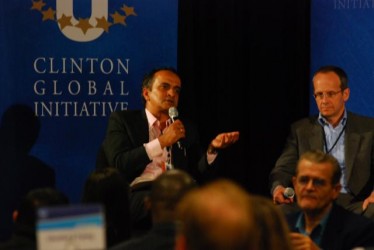 Clinton outlined those strategies for a group of reporters, including several UM student journalists, at a press conference held prior to the final plenary, saying that up to 40,000 Haitians living in tent cities vulnerable to flooding need to be moved to higher ground before the height of Haiti's rainy season hits. He further noted that sanitation conditions in the capital of Port-au-Prince and elsewhere must be improved so that Haitians, especially the country's children, are not stricken with water-borne diseases.
The UN special envoy to Haiti and the co-leader with former President George W. Bush on fundraising for the Caribbean country, Clinton also called on Haiti's educational officials to devise a plan to provide tuition relief to students who, because of the financial strain caused by the quake, can no longer afford to pay for classes. He also charged the Haitian Diaspora, "not just in the United States, but everywhere," to help in the rebuilding process.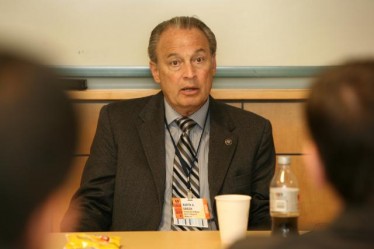 At his final plenary, "Moving Forward in Haiti," he announced three commitments, all aimed at improving conditions in the crisis-hit country. One of them, "Hens for Haiti: Feeding the Poor, One Egg at a Time," will construct a facility housing more than 1,500 hens capable of producing 1,250 eggs per day.
Clinton called the endeavor, which is being organized by a group of Virginia Tech University students, crucial because "Haiti imports more than half of its food, including one million eggs a day, from the Dominican Republic."
So far the students have raised $23,000 of the $60,000 it will take it open the hen facility. "We've been holding all kinds of fundraising drives and even going onto the social networking sites like Facebook to get people to donate to our cause," said Sherley Codio, who, along with fellow Virginia Tech students Christina Newman and Fabrice Marcelin, came up with the idea.
During the final plenary, held inside UM's BankUnited Center, Haitian-born novelist Edwidge Danticat said even in the midst of a disaster that killed more than 200,000 people and left over a million homeless, opportunity has risen from the rubble, giving Haitians hope for a better future.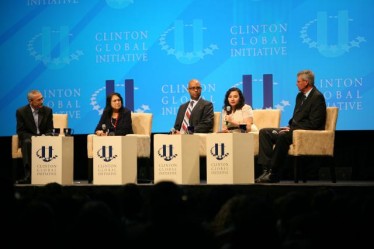 "Whatever faith people had, it deepened [after the quake]," she explained, saying that there are now opportunities to decentralize overcrowded Port-au-Prince, educate more women and girls, and "stop neglecting the countryside."
"We have a chance to redefine our country and engage our problems even as they have worsened," she said.
Danticat was joined on stage by Indianapolis Colts wide receiver Pierre Garçon, who is of Haitian descent, and Stanley Clermont, a university student from Haiti who described what it was like on the day of the massive temblor and how he helped rescue dozens of people from the rubble.
When asked by NPR host and plenary moderator Michele Norris to tell the audience what the empty bowl that had been placed on the stage meant to him, Clinton said he viewed it as "not nature's failing, but humanity's failing. Haiti can fill its own bowls with rice if we do things right."
For more information on the CGI U event, visit
http://www.miami.edu/cgiu
.
« Back to News Releases