Clinton Global Initiative University touches down at UM partnering with thousands of students to help change the world.
Coral Gables (April 16, 2010) — From a six-week summer camp aimed at improving the math skills of high school students in inner-city Detroit to an initiative that will create a network of sustainable urban gardens in earthquake-ravaged Haiti, the student service projects former President Bill Clinton highlighted when he stepped onto the University of Miami's BankUnited Center stage Friday evening served as examples of how college students could help solve intractable problems.

"You really do have the power to change the world, and you don't have to be wealthy to do it," Clinton told an audience of more than 5,200 people, most of them students, who had gathered at the arena for the opening plenary address of his Clinton Global Initiative University (CGI U) meeting. "The most important thing to have is an idea and a strategy to implement it."
The service projects, dubbed Commitments to Action, are the backbone of the third CGI U meeting that continues on the UM campus Saturday with workshops and meetings focused on five topics that are of particular importance to college students: education, environment and climate change, peace and human rights, poverty alleviation, and global health.
At Friday's opening plenary, the official launch of the three-day event, Clinton gave a preview of what was to come.
He challenged students to ask three key questions when crafting ideas for their projects: What are you going to do? How much money will be needed? And how do you propose to do it in a way that hasn't been done before?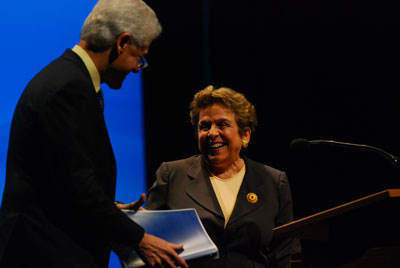 "There's always a gap between what the private sector can produce and what the public sector can provide," Clinton said, telling students that their work could serve to fill that gap.
Clinton's words of encouragement were echoed by UM President Donna E. Shalala, who served as his secretary of health and human services during his eight-year presidency.
"Real change begins one step—one commitment—at a time," Shalala said. Telling the students that CGI U frames "global issues on a human doable scale," Shalala said the event would turn "mild-mannered college students into super social entrepreneurs."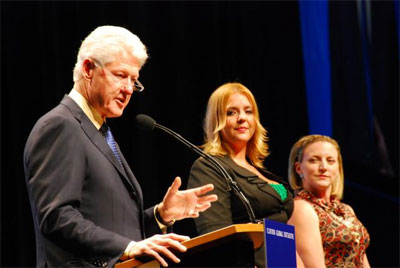 As an example, Clinton used the Commitment to Action of one of the University of Miami's own students to inspire the audience. Urban Roots Give Life, a project of UM student Camille Kremer and Florida International University's Ann Marie Warmenhoven, will establish sustainable urban gardens in Shada, Cap-Hatien, providing a source of local, homegrown food for a nation that imports half of the food it consumes despite having fertile soil.
Their project is especially important to Cap-Hatien, Clinton said, because the region has experienced a massive influx of internal refugees who fled Port-au-Prince in search of better living conditions after the quake destroyed much of the capital's infrastructure.Further inspiration for the students came from the four invited guests on the panel, "What If: Igniting the Social Imagination," that was moderated by Clinton.
Each of the panelists told students how they came up with ideas for their problem-solving ventures, starting with Sam Adelsberg, a University of Pennsylvania student and founder of a microlending fund in Israel called LendforPeace. To start his venture, Adelsberg searched the Internet to see if any similar projects existed, and then he bought a ticket to Israel.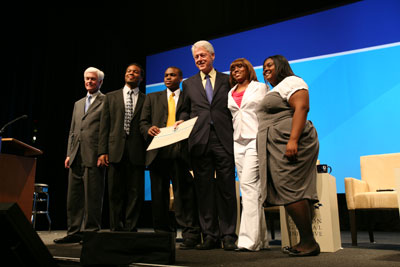 President Clinton cited three past exemplary student commitments, including one from a Wayne State University group of students who developed outreach activities in math education to the Detroit community.
"The important thing is to get your hands dirty," he said, telling students that they should be "passionate" about their projects. So far, his LendforPeace endeavor has made loans to about 50 entrepreneurs and has a repayment rate of about 90 percent.
MIT student Robyn Allen came up with an idea for an electric car that could get 200 miles on a gallon of gas, enlisting the help of other students who were successful in building solar-powered cars.
Allen predicted that in the next ten years the world will see major changes in cars and how they are used, saying automakers will come up with more advanced drive trains.
Grammy Award-winning songwriter and producer Pharrell Williams said his online news source for teenagers, Kidult.com, is his way of "making it easier [for young adults] to go to college and harder to go to jail." Williams was alluding to the high imprisonment rate of African-American males, a disturbing statistic Clinton said Williams's initiative could help reverse.
U.S. Surgeon General Regina Benjamin told students how she made it a point to stay active in the community of Bayou La Batre, Alabama, where she operated a public health clinic that served poor patients. Staying active with the local residents, she said, helped her bring health care services to patients.
Clinton also noted Benjamin's volunteer service with the National Health Service Corps, saying that the nation needs to increase the number of ways recently graduated medical students can work off their school debt.
The campus-based portion of the CGI U conference ends Saturday evening with a plenary session focusing on recovery and reconstruction efforts under way in Haiti. Clinton was named U.N. special envoy to Haiti last year. President Barack Obama appointed Clinton and former President George W. Bush to spearhead fundraising for the Caribbean nation.
On Sunday, CGI U participants will join Clinton, former NBA All-Star Alonzo Mourning, and more than 100 UM student-athletes in Homestead, Florida, for a service project at the Homeless Trust Fund.
« Back to News Releases